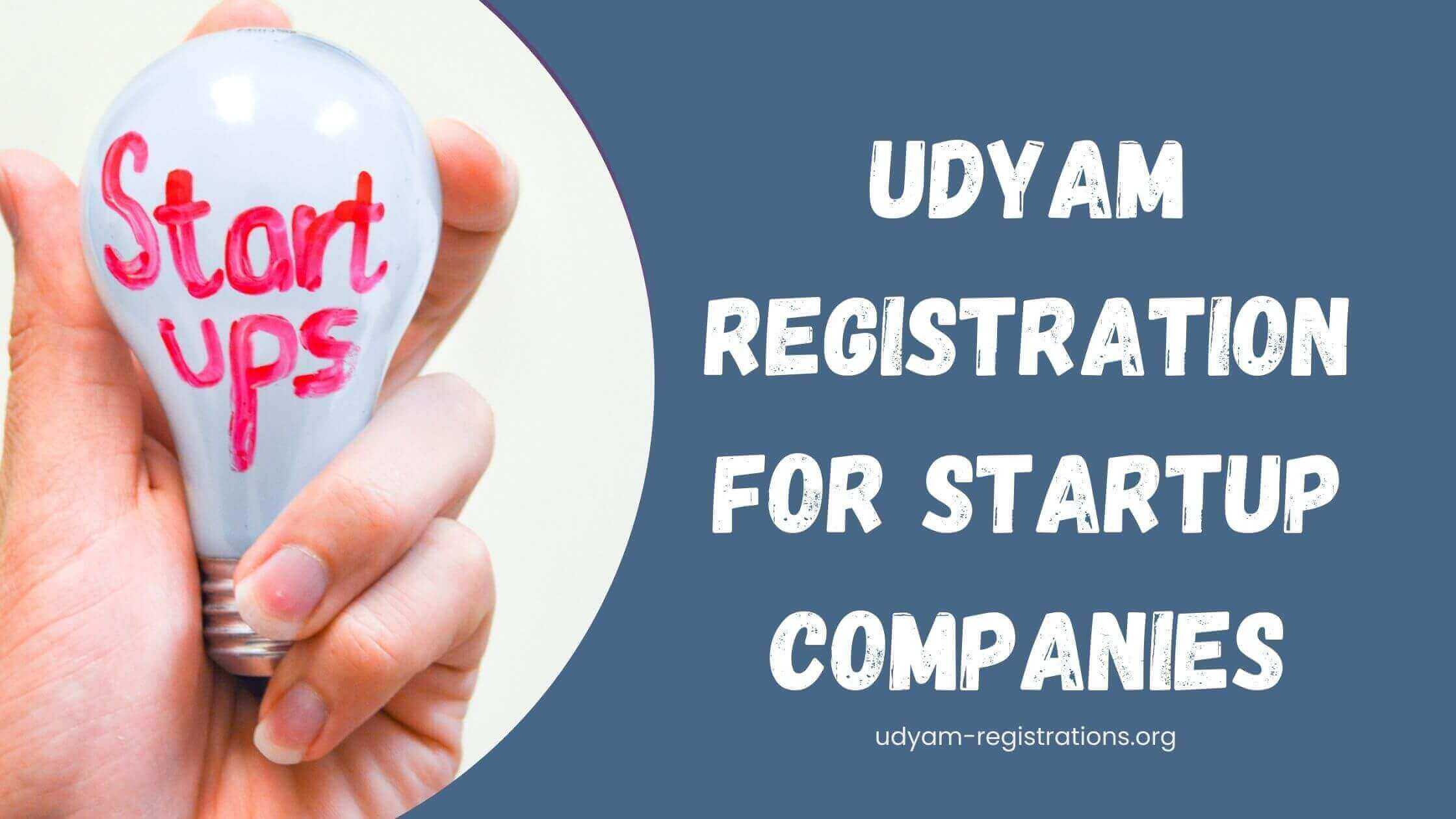 Udyam Registration for Startup Company
Starting a new business venture can be an enjoyable experience, but it also comes with administrative and legal responsibilities. One important aspect that budding entrepreneurs in India need to pay attention to is Udyam registration. This process started by the Government of India is designed to provide various benefits and recognition to startups and small businesses. In this comprehensive guide, we will explore what Udyam Registration is, why it's essential, and the step-by-step process to ensure that your startup company is on the right path to success.
Understanding Udyam Registration
What is Udyam Registration?
Udyam Registration, formerly known as Udyog Aadhaar, is an online registration process provided by the Ministry of Micro, Small and Medium Enterprises (MSME), Government of India. It is specially designed for small and micro enterprises to get a variety of benefits and support from the government.
Benefits of Udyam Registration
Financial Assistance: Registered businesses can access various financial schemes offered by the government, including subsidies and low-interest loans.
Priority Lending: Banks often give priority to lending to enterprise-registered enterprises, making it easier to secure funding.
Government Tenders: Udyam Registration enables businesses to participate in government tenders and contracts.
Low Fees: Businesses registered under Udyam enjoy low registration fees for patents and trademarks.
Credit Linked Capital Subsidy: Eligible businesses can avail of the Credit Linked Capital Subsidy scheme for technology upgradation.
Why Does Udyam Registration Matter for Your Startup?
Unlocking Opportunities
Registering your startup under the Udyam scheme opens up a world of opportunities. From tax benefits to preferential loans and access to various government schemes, your startup can gain a competitive edge.
Increased reliability
Building trust in the market is important for any startup. Udyam Registration adds a layer of credibility to your business. This reassures customers, partners, and investors that your company is recognized and regulated by the government, thereby building trust in your brand.
Easy access to finance
One of the key challenges for startups is securing funding. Udyam Registration simplifies this process by making your startup eligible for various government-backed financial incentives, including low-interest rates and collateral-free loans.
Who Can Register Under Udyam?
Udyam Registration is open to various types of business entities, including sole proprietorships, partnerships, and private limited companies. To be eligible, a business must meet the following criteria:
Manufacturing Units: Businesses engaged in manufacturing or production of goods can register.
Service Providers: Service-oriented businesses can also register for Udyam.
Investment Limit: The investment limit for micro-enterprises is up to ₹1 crore, while small enterprises can have investments up to ₹10 crores.
Step-by-Step Guide to Udyam Registration for startup companies
Visit the Official Udyam Registration Portal: Start by accessing the official website dedicated to Udyam Registration.
Registration Process: Once on the portal, you'll find information about Udyam Registration. Look for the registration option and click on it.
Document Preparation: Gather the necessary documents required for registration. Commonly needed documents include your Aadhar card, business PAN card, business details, and bank account information.
Online Application Form: Fill out the Udyam Registration application form with accurate and complete information. This form will require details about your business, such as its name, address, type, and activities.
Verification and Submission: After filling out the form, review all the information for accuracy. Once satisfied, submit the application.
Payment: Pay the fee through the provided payment gateway. Keep the payment receipt as proof.
Acknowledgment: After submitting the application and payment, you should receive an acknowledgment or reference number. This number is essential for tracking the status of your application.
Udyam Registration Certificate: You'll receive the Udyam Registration Certificate at your registered email ID. This certificate officially recognizes your business as an SME and allows you to avail yourself of various government benefits and schemes.
Conclusion
Udyam registration for startup companies in India is an essential step to ensure that your business gets the recognition and support it deserves. It opens doors to financial assistance, government contracts, and many benefits that can take your business to greater heights.
Remember, a journey of a thousand miles begins with a single step, and Udyam registration can be the first step toward realizing the full potential of your startup. So, don't delay – register your startup today and open the doors to a bright future.
Need Assistance with Udyam Registration for Your Startup?
If you're feeling overwhelmed by the registration process or need expert guidance, our team of experienced professionals is here to help you. Contact us today to ensure that your startup's journey to success starts off on the right foot. Don't miss out on the countless opportunities that enterprise registration can bring to your doorstep.
FAQ
1. Is Udyam Registration mandatory for startups?
Udyam Registration is not mandatory but highly recommended. It unlocks numerous benefits and enhances your startup's credibility.
2. Can I update my Udyam Registration details?
Yes, you can update your registration details if there are any changes in your business information.
3. Are there any fees for Udyam Registration?
Yes, there is a minimum one-time registration fee i.e. 1499.
4. How long does it take to receive the Udyam Registration certificate?
The processing time varies, but it typically takes 2 to 3 working days.