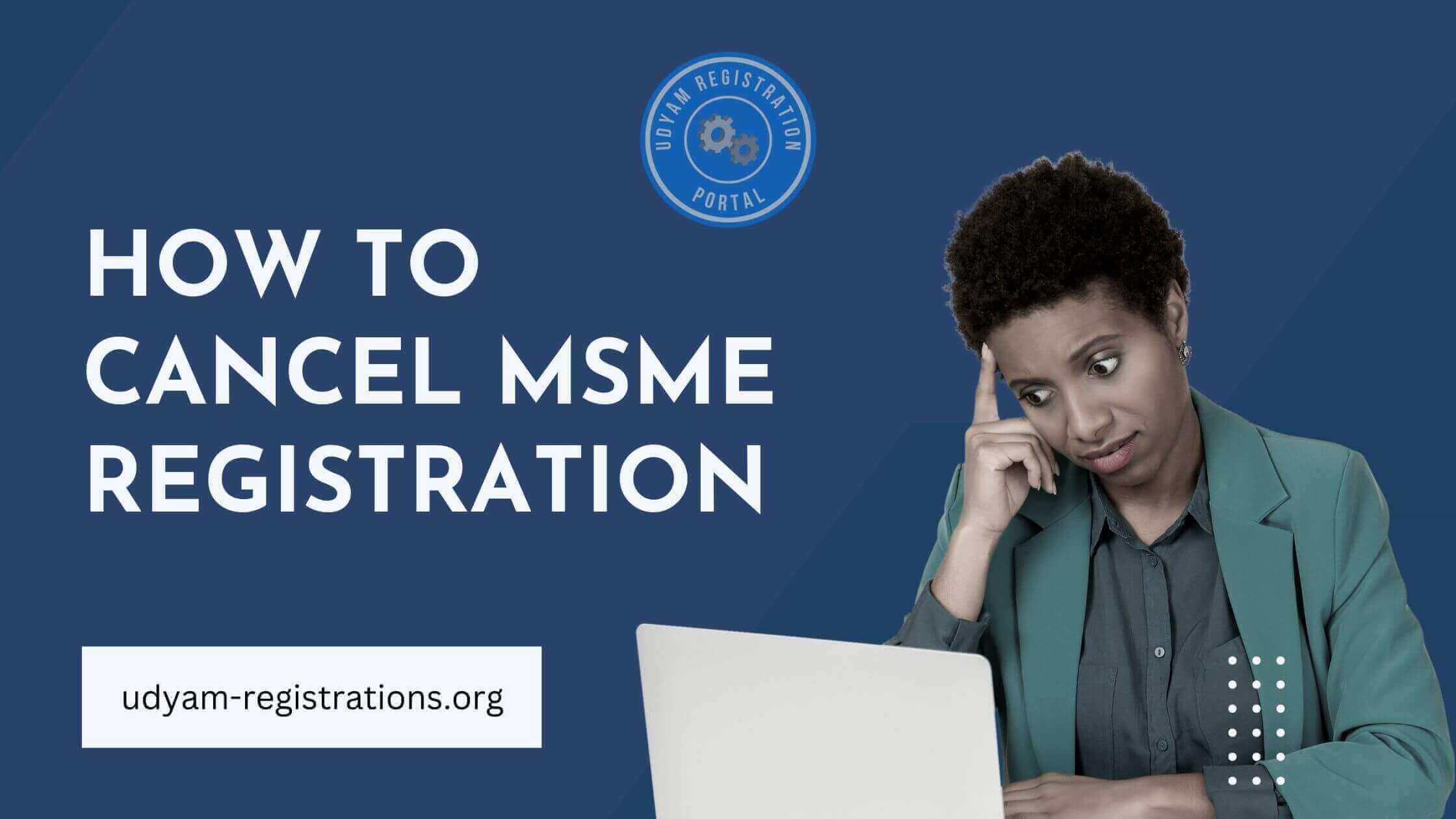 How To Cancel MSME Registration Online?
In this comprehensive guide, we will walk you through the steps and process to cancel your MSME (Micro, Small, and Medium Enterprises) registration online. Whether you're closing your business, changing your business structure, or simply need to deregister for some other reason, this article will provide you with a detailed roadmap. MSME registration is necessary for various benefits and incentives, and it is important to understand how to cancel it if necessary. Let us learn about the intricacies of canceling your MSME registration with ease and efficiency.
Small and medium-sized businesses are the backbone of any economy, and the Government of India provides support to these enterprises through MSME registration. However, circumstances may arise that will require cancellation of your MSME registration. Whether it is due to business closure, restructuring, or any other reason, it is essential to understand the process of cancellation of registration.
In this guide, we will address the 'how' and 'why' of canceling your MSME registration. We will also discuss important considerations, and prerequisites and provide a step-by-step description of the online cancellation process. By the end of this article, you will be equipped with the knowledge needed to seamlessly navigate the process.
Reasons for Cancelling MSME Registration
Before we get into the cancellation process, it is important to understand the reasons why a business may need to cancel its MSME registration. Some common scenarios include:
Business closure: If you decide to close your business operations, you may have to cancel your MSME registration to avoid any legal complications.
Change in business structure: If there is a significant change in your business structure, such as a merger with another company, you may need to cancel your existing registration and re-register with new details.
Deactivation: If your business is no longer operational or not carrying out any business activities, it is advisable to cancel your MSME registration to avoid unnecessary compliance requirements.
Conditions required for cancellation of MSME registration
Before starting the cancellation process, make sure you have the following prerequisites:
Udyam Registration Number: You must have your Udyam Registration Number. This is a unique identifier for your MSME registration.
Access to the Internet: Since the cancellation process is online, you need a stable Internet connection.
Valid Email Address: You will need a valid email address to receive communications and updates regarding your deregistration request.
Now, let us move on to the step-by-step guide on how to cancel your MSME registration online.
Apply For Cancellation Of MSME Registration
Step 1: To begin the process, visit the Udyam Registration portal
Step 2: Fill up the Cancellation Form of MSME
Step 3: Make the Payment for the Cancellation Process
Step 4: Our executive will generate an authentication code to make sure the certificate belongs to you
Step 5: Then you have to provide them with the authentication code
Step 6: Our executive will process your MSME Registration cancellation process.
Important points to consider
The cancellation process may take some time, and you should be patient while waiting for approval.
Make sure that all your pending dues and compliances have been settled before initiating the cancellation process.
Have all relevant documents and information ready, as you may be asked to provide more details during the process.
Conclusion
Canceling your MSME registration online is a straightforward process that requires careful attention to details. By following the steps mentioned in this guide, you can easily complete the cancellation process.
Remember that MSME registration offers many benefits, and canceling it should be a well-considered decision. Always ensure that you satisfy all pending obligations before initiating the cancellation process.
If you have any further questions or need assistance, do not hesitate to contact the support team of the Udyam Registration Portal. Your MSME registration is a valuable asset, and understanding how to manage it is vital to the success of your business.
Frequently Asked Questions
1: Can I cancel my MSME registration if I plan to reopen my business later?
Yes, you can cancel your registration and re-register when you decide to reopen. Make sure to follow the re-registration process when the time comes.
2: What is the approximate processing time for MSME registration cancellation?
The processing time can vary, but it typically takes a few weeks to a couple of months for your request to be approved.
3: What is the impact of canceling MSME registration on my business's eligibility for government schemes and incentives?
Canceling your MSME registration will make your business ineligible for the benefits and incentives provided to MSMEs. It's important to carefully consider this before proceeding with the cancellation.
4: Can I cancel my MSME registration if I have pending loans or financial obligations?
Yes, you can cancel your registration even if you have pending loans or financial obligations. However, it's essential to communicate with your creditors and financial institutions to ensure a smooth transition.
5: Do I need to inform my suppliers and customers when I cancel my MSME registration?
While it's not mandatory, it's advisable to inform your business partners, suppliers, and customers about the cancellation. This can help manage expectations and prevent any confusion regarding your eligibility for certain benefits.